4-part review course
Printed & annotated digital textbooks
More than 1,300 digital flashcards
Adapt2U Technology powered by Sana Labs
Proficiency score for every module
More than 400 SkillMaster videos
Content updated regularly to match CPA Exam blueprint
12 simulated exams that mirror the CPA Exam style and content
1-on-1 academic support from expert CPAs
Online FAQ database
4-part review course
Printed & annotated digital textbooks
More than 1,300 digital flashcards
Adapt2U Technology powered by Sana Labs
Proficiency score for every module
More than 400 SkillMaster videos
Content updated regularly to match CPA Exam blueprint
12 simulated exams that mirror the CPA Exam style and content
1-on-1 academic support from expert CPAs
Online FAQ database
4-part review course
Printed & annotated digital textbooks
More than 1,300 digital flashcards
Adapt2U Technology powered by Sana Labs
Proficiency score for every module
More than 400 SkillMaster videos
Content updated regularly to match CPA Exam blueprint
12 simulated exams that mirror the CPA Exam style and content
1-on-1 academic support from expert CPAs
Online FAQ database
Unlimited practice tests
Mobile app access
Study planner
User interface of software replicates the exam and blueprint
Offline access
Study notes
Video lectures
Task based simulations
Flexible financing options for 3, 9 & 12 months
Accounting for Empires game
Unlimited practice tests
Mobile app access
Study planner
User interface of software replicates the exam and blueprint
Offline access
Study notes
Video lectures
Task based simulations
Flexible financing options for 3, 9 & 12 months
Accounting for Empires game
Unlimited practice tests
Mobile app access
Study planner
User interface of software replicates the exam and blueprint
Offline access
Study notes
Video lectures
Task based simulations
Flexible financing options for 3, 9 & 12 months
Accounting for Empires game
Martin ElyPhoenix, AZ
Internal Revenue Service
Becker made all the difference!
Not only have I passed the CPA exam, but I have a new career as an auditor that I love. I thought I was too old to go back to school, change careers and pass the CPA exam. But with Becker's help, I was able to do it.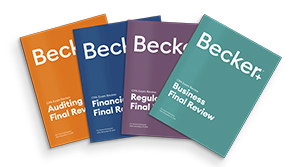 4-Part Final Review package
$599.00
A condensed review that reinforces your understanding of the most challenging concepts on the CPA Exam. It offers completely new lectures, multiple-choice questions and simulations designed to get the most out of your final hours of study time. Available in self-study format.
Supplemental multiple-choice question package
$599.00
Written by Becker subject matter experts, our Supplemental Multiple-Choice questions are available for each exam section, providing extra practice for personally challenging topics.  Supplemental Multiple-Choice Questions are available to current Becker students. Course required for purchase. Current or former students, please login to purchase.
Printed flashcards
$179.00
Flashcards are a convenient way to drill home information and commit to memory the most important principles. Over 1,000 cards in a portable format for learning anywhere, anytime. (non-refundable)