CPA Evolution Transition Policy Announced
February 28, 2022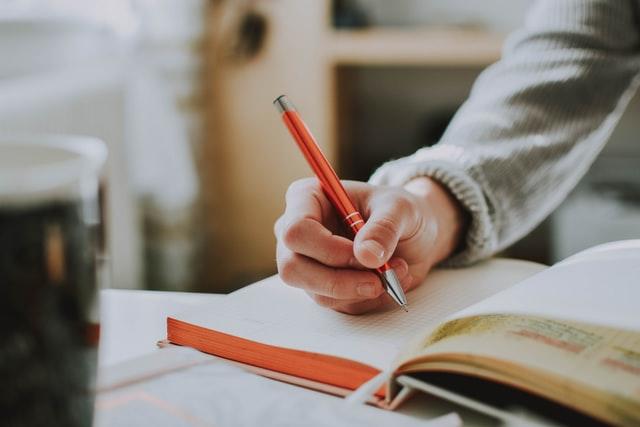 CPA Evolution will be here before you know it with an entirely new exam scheduled to launch on January 1, 2024.  If you want to become a CPA in the next 2 years, you should make it a goal to study and pass all 4 parts of the CPA Exam prior to January 2024.  For those candidates who do not complete all four parts before the effective date, no fear, NASBA has just released a policy outlining transition plan from the current CPA exam to the CPA exam under CPA Evolution in 2024.
Overview of CPA Evolution Model
Let us first begin with an overview of the new Core + Disciplines exam model under CPA Evolution. The Core sections are based on accounting, auditing, and tax topics and are divided into three sections: 
-    Auditing and Attestation (AUD)
-    Financial Accounting and Reporting (FAR)
-    Taxation and Regulation (REG)
Starting on January 1, 2024, candidates will be required to take and pass all three Core sections.  Even though the names of these new sections are similar to the sections in the current exam, the content within these sections will be different.  In July 2022, NABSA is scheduled to provide a draft of the new CPA Exam Blueprint that will include details about the content in each section.  
In addition to the three Core sections, candidates will need to pass one Discipline section to demonstrate greater skills and knowledge.  Candidates will have a choice of three Discipline sections that reflect three pillars of the CPA profession:
-    Business analysis and reporting (BAR)
-    Information systems and controls (ISC)
-    Tax compliance and planning (TCP)
Overview of Transition Policy
NASBA has developed a straight-forward transition policy for candidates who have not passed all four parts of the current CPA exam by December 31, 2023.  Candidates who have not passed or have lost credit for the AUD, FAR, or REG sections on the current exam will need to take the related new Core section of AUD, FAR or REG.  Candidates who have not passed or have lost credit for the BEC section of the current exam will need to take and pass one of the three new Discipline sections. Note that this means that the most important exam for you to pass before January 1, 2024 is the BEC exam!
Below is a chart from NABSA where they provide a visual depiction of the transition policy for each section.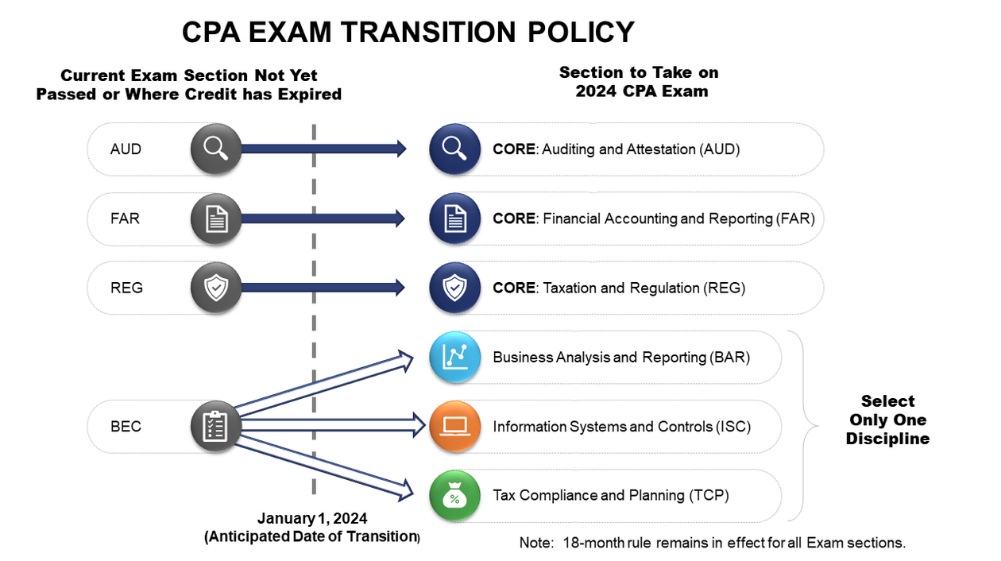 We have also included a link to the NASBA article that outlines this transition policy.  We encourage you to take the exam now and pass before these changes are effective.  Fortunately for those that are not able to pass all four parts prior to December 31, 2023, NASBA has provided a straight-forward solution to passing the exam and Becker will be there to prepare and support you every step of the way.
https://nasba.org/blog/2022/02/25/transition-policy/
Looking for more information?
In this short video, Becker's own Mike Potenza explains the transition policy and gives CPA Exam candidates a strategy to approach the CPA Evolution. Watch here!