Becker Online CPE Subscription
700+ CPE on-demand courses. 1,000+ CPE webcasts. We've got you covered.
Our CPE subscriptions offer something for everyone's interest. With 700+ on-demand CPE courses, 1,000+ CPE webcasts annually and 18 different fields of study, you'll find a package that fits your lifestyle, schedule and preferred way to learn.
"Becker has the best content around and it's updated continuously."

-Gerard, Becker Customer
1 year
1 year
90 days
50+
50+
25+
25+
O
110+
50+
50+
1000+
480+
480+
700+
570+
475+
Unlimited credit consumption
Downloadable course content
Our plans at a glance
Personalized CPE Compliance Tracker
All webcasts include nights & weekends
Critical update courses (tax, A&A, ethics)
State required ethics courses
Industry-specific courses
Webcasts with live Q&A and partial credit available***
Unlimited credit consumption
Downloadable course content
Which Subscription is right for you?
Take our 4-question quiz to find out!
On demand CPE courses.
700+ courses. 1,000+ CPE credit hours. 24/7 access.
Find a course to fit your schedule
CPE on demand features:
18 different fields of study including taxes, accounting, auditing, information technology and personal development
Downloadable course materials
Certificate of completion available immediately after course completion
Immersive experience featuring video, audio and text
Get your
free

CPE course
And get CPE credit, too.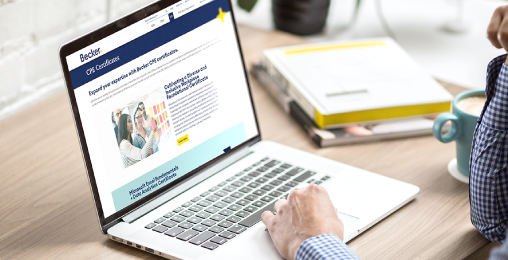 *8-hour premium courses include Federal Tax Update and Annual Accounting and Auditing Update available in webcast only.
**Annual projection
***Partial credit for webcasts is earned based on the number of participation pop-ups that are clicked during the webcast. You have to click at least 3 participation pop-ups first to earn 1 CPE credit. Then, credits are awarded in .2 increments up to the total amount of CPE for the webcast.  
††CPE Webcasts may not be available during major holidays. Essentials and Select subscriptions do not include webcasts for all times and days noted. Scheduled dates and time are subject to change at the discretion of Becker.
*Offer is non-transferrable and cannot be combined with another offer. Offer excludes AICPA webcasts, AICPA certificates and Artificial Intelligence for Financial Services.  CPE subscriptions exclude AICPA webcasts, and Certificate Programs. Offer ends 9/26/2023.