One step ahead - 2024 CPA Exam changes.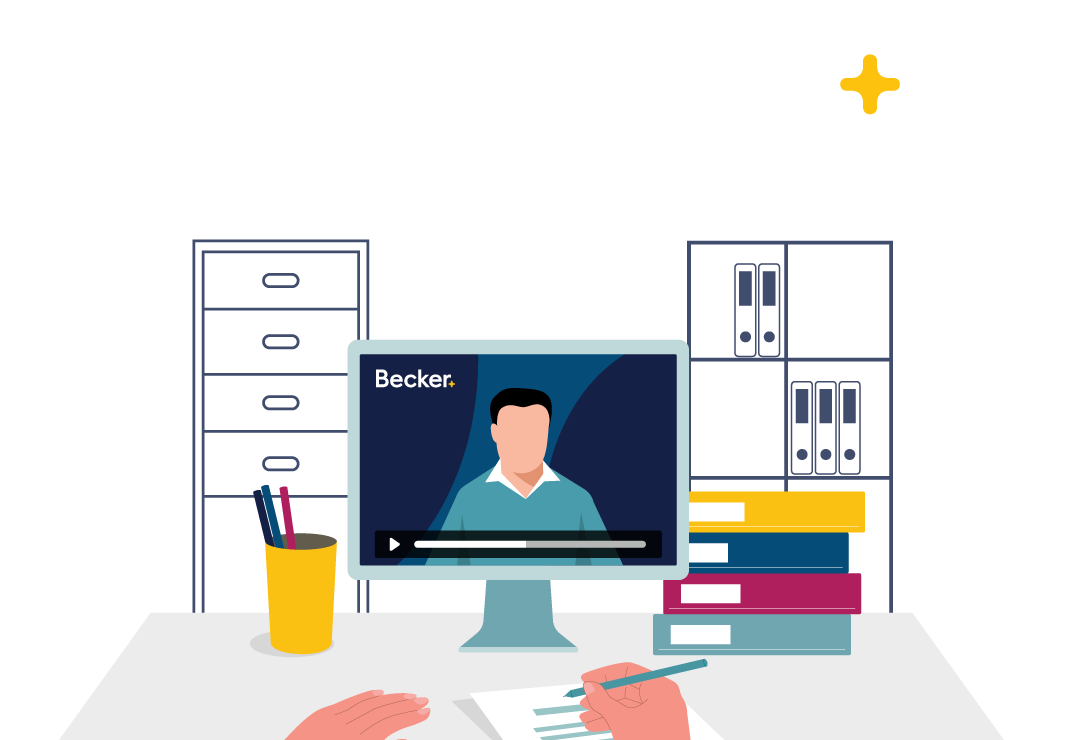 Expert Insights
Becker's Michael Potenza, CPA and attorney, connects with education experts to discuss what students might encounter on a future CPA Exam with the rollout of the new model curriculum for CPA Evolution.
CPA Exam Evolution FAQ
The right answers to the important questions.
What is CPA Evolution?
Accounting has evolved over time. CPA Evolution is a joint effort between the National Association of State Boards of Accountancy (NASBA) and the American Institute of Certified Public Accountants (AICPA) that aims to evolve the profession's licensure model to reflect the technological and data analytics skills and knowledge CPAs increasingly need in today's marketplace. In short, CPA Evolution addresses those changes with structural and content changes to the CPA Exam effective January 1, 2024.
What is changing on the 2024 CPA Exam?
The CPA Exam in 2024 is moving to a Core-Plus-Discipline Model which requires candidates to be skilled in a core base of accounting, auditing, and tax as well as one discipline section. For the discipline section, candidates choose between Information Systems and Controls (ISC), Business Analysis and Reporting (BAR), or Tax Compliance and Planning (TCP).  For a detailed explanation of more exam changes for CPA Evolution watch this video.
Is the CPA Exam getting harder?
The CPA Evolution initiative is reengineering the CPA licensure module to acknowledge the shift in the skills and competencies needed in the current and future practice of accounting.  The new CPA exam will focus on topics that are more relevant in today's environment which is not necessarily easier or harder but different.  If you focus your studies and prepare for the new exam, Becker will be there to support you along your journey.  
Why is the CPA Exam changing?
The CPA Exam is changing to address the need for newly licensed CPAs (nlCPAs) to be more prepared to perform accounting tasks and services that involve the use of technology and data analytics. By preparing nlCPAs in basic and advanced accounting practices, as well as in technology and analytics, nlCPAs will be positioned to be successful throughout their careers in the accounting profession. 
When does the CPA Exam change?
The CPA Exam changes are slated to be updated beginning January 1, 2024. NASBA announced a transition timeline for test takers, a test administration schedule and a score release timeline for CPA Evolution.
Transition Timeline
November 15, 2023 - NASBA will stop processing BEC exam applications
November 22, 2023 - NASBA will start processing applications for the new discipline sections (BAR, ISC, and TCP)
December 15, 2023 - Last day of testing in 2023 for ALL sections (AUD, BEC, FAR, and REG)
January 10, 2024 - First day of testing for all CPA Evolution sections. 
For more information on transition, test administration schedule and score release timeline, check out this blog.
When will Becker release the new CPA Exam study material? Will my Becker CPA Review course materials update to reflect the changes in the CPA Exam and updates from the CPA Evolution?
Becker CPA Course Review materials will update in early fall 2023. We aren't just updating content but rolling out a new and improved Becker CPA Exam Review experience using student feedback. 

Becker students will have full access to both the 2023 exam materials as well as the Evolution exam content, both of which will match their respective AICPA blueprints. Students will easily be able to select the version of content they need based on when they plan to test.
So whether you are a current Becker student or plan to do so soon, rest assured that you will have everything you need to pass the CPA Exam now and in 2024 at no extra cost. AND this update and transition will happen seamlessly. We are committed as always to helping you pass the CPA Exam like we have for over 60 years! 
How many sections will the core CPA Exam contain starting in 2024?
The new CPA Exam will include three Core Exams. CPA candidates must pass all three:  
Financial Accounting and Reporting (FAR) 
Audit and Attestation (AUD) 
Tax and Regulation (REG) 
The CPA Exam will also include three Discipline Exams. CPA candidates must pass just one of the three: 
Business Analysis and Reporting (BAR) 
Information and System Controls (ISC) 
Tax Compliance and Planning (TCP) 
Students can sit for the exams in any order, they can even take the discipline exam before the core exams. Once a student passes their first section of the exam, they still have 18 months to pass the remaining three exams. 
Students that pass BEC on the current CPA Exam and have credit still on January 1, 2024 will not be required to take a Discipline section. As such, our recommendation is to finish BEC prior to December 15, 2023 (the last day of testing for all sections in the calendar year).
NASBA has release a Transition Policy which provides guidance for students who take some exams prior to CPA Evolution and some exams after the launch of CPA Evolution. 
The AICPA and NASBA have also recommended that each jurisdiction adopt the following CPA Exam Credit Extension policy: "Any candidate with Uniform CPA Examination credit(s) on January 1, 2024, will have such credit(s) extended to June 30, 2025." This means that any candidate who has passed at least one section of the CPA Exam and still has credit for that exam on January 1, 2024 will have until June 30, 2025 to pass all remaining sections of the CPA Exam without losing credit for any section passed. Many, but not all jurisdictions have already adopted this Credit Extension policy. To check your state/territory status please visit NASBA's website.
If you have additional questions about the new CPA Exam or the NASBA Transition Policy, please contact us at questions@becker.com.