Monetizing user data: Enhancing the customer experience + improving profits
February 18, 2021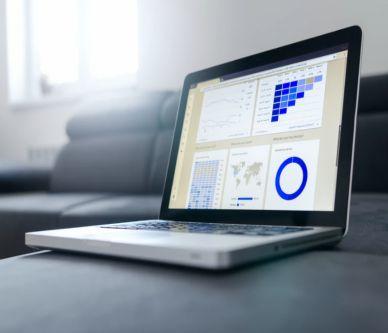 I'm Marsha Parker, the Strategist & Technology Leader at the Ford Motor Company in Detroit, MI. This article is part 2 of my 4-part blog series on data and analytics. Read the first article about data as a strategic asset here.
In this article, I'll examine the value of data monetization, and how it can improve the customer experience and company profits. Using a case study approach, I'll demonstrate how user data can be monetized and impact both of these components by formulating a data strategy based on insights that lead to long-term growth and sustainability.
Data as a strategic asset: the value of Big Data
I'll start by defining a term frequently used in the data and analytics field: "Big Data."
Big Data can be complicated to define for an organization as it tries to manage the volume and variety of information available for extraction, analysis and consumption.1  Big Data describes the large volume of data—structured, semi-structured and unstructured—that an organization consumes on a daily basis; it is characterized by its "volume, velocity, variety and veracity," and can be complicated due to its characteristics and source (Zicari, 2013).
This evolution of data within the last three to five years has caused companies to take a second look at the quality and value of data within their organization. Given the complexities of big data, the role of a data scientist is becoming critical to the evolution of a company as organizations plan for volatility in the markets, long-term growth, and innovation of products and services.
Role of data scientists
According to Hal Varian, chief economist at Google, "The ability to take data—to be able to understand it, to process it, to extract value from it, to visualize it, to communicate it— [is] going to be a hugely important skill in the next decade." 2
A data scientist's primary role is to identify and frame the business problem, and then model and visualize data into meaningful patterns. As an aspiring data scientist, you'll use data to discover patterns and insights, and solve a business need. As a consultant to the business, your role will be critical to predicting and forecasting how data can be used to improve business outcomes and make informed decisions. You will need to demonstrate the value that data brings along with its ability for monetary gain.
Data strategy: roadmap for recognizing the value + impact of data
As you create your data monetization strategy, you will need to examine how data can be used to address critical business problems at scale. Shared alignment between the business and data entities is needed to ensure that 1) a shared vision is created, 2) prioritization occurs, and 3) opportunities for improvements are acknowledged. Your data strategy should center around recognizing the value of data within your company along with addressing your business' pain points.
Do you see a need to improve the customer experience? Do you plan to expand services in certain markets? How are your products and services doing in comparison to your competitors? Your data monetization strategy should answer these questions.
What is data monetization?
According to the Dell Technologies blog, "Data monetization can be defined as maximizing the revenue potential from available data by institutionalizing the capture, storage, analysis and effective dissemination of that data." 5
When a company decides to seek out the use and value of its data, data monetization occurs. Some data monetization examples include: 
Maximizing data collection efforts
Optimizing storage capacity of data
Appreciating the need for strong data analytics around the customer experience
Understanding the company environment (culture) and context of the data to solve business problems and challenges
Leveraging and socializing data across the entire company
Driving maximum return from the data
We typically see the benefits of data monetization demonstrated in additional revenue streams, increased market share or cost savings for a company. We may also see these effects on customer experience, community value and brand recognition.
Data monetization case studies
Let's look at a few relevant case study examples where data monetization was used to improve profits and enhance the customer experience.
It's evident that the ability of a company to harness big data into profitable business opportunities can impact business growth and stimulate additional revenue. Every day, consumers witness firsthand how companies utilize data monetization to improve their individual experiences. New data monetization models  are game changers that will enable companies to create customer experiences that propel long term business growth and ultimately, profitable margins.
Keep reading this 4-part data analytics series on the Becker blog to learn about how you can implement new data processes to best serve your organization in the 21st century.     
Ready to begin your journey into a data-centered professional role? Enroll in Becker's Data & Analytics for Business Professionals Certificate to learn about all things data management and organization. Bring your company into the 21st-century data landscape with help from Becker.
References
Zicari, Robert V. (2013). Big Data Challenges and Opportunities. http://www.odbms.org/wp-content/uploads/2013/07/Big-Data.Zicari.pdf
Dykes, B. (2016). Retrieved from Data Storytelling: The Essential Data Science Skill Everyone Needs (forbes.com) Accessed on Jan 2020.
Franks, B. (2012). Taming the big data tidal wave. Finding opportunities in huge data streams with Advanced Analytics. Pub: Wiley & Sons. 
How much data is consumed on social media? Retrieved from  https://wersm.com/how-much-data-is-generated-every-minute-on-social-media/  Accessed on Jan 2020
Zimmermann, Z. (2011). Data democratization defined. Retrieved from Data Monetization Defined – InFocus Blog | Dell Technologies Services
Laney, D. (2020). Forbes. Data Monetization. New value streams you need right now. Retrieved from Data Monetization: New Value Streams You Need Right Now (forbes.com)
Swarm Chats. Marcy Klevorn. Former CIO, President of Mobility Officer and Transformation Officer at Ford. (2020). Retrieved from https://swarm.space/swarm-chats-marcy-klevorn/
Retrieved from Rocket Companies Celebrates its Debut as a Public Company (yahoo.com)
Brown, D. (2019). USA Today. Starbucks rewards change: New loyalty plan today- what you need to know.  Retrieved from Starbucks redesigns its loyalty program so you get free stuff sooner (usatoday.com)
McCoy, D. (2017). Five ways Walmart uses Big Data. . Retrieved from Five ways Walmart uses big data | Chain Store Age