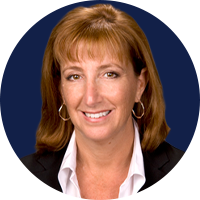 Dr. Ann C. Dzuranin is the KPMG Endowed Professor of Accountancy at Northern Illinois University. She earned her B.S. from Fairleigh Dickinson University, her MBA from New York University and her Ph.D.from the University of South Florida. Ann is a CPA (NJ) with 15 years of experience in both public and corporate accounting.
 
Ann conducts behavioral research in management accounting decision-making and the ways in which accounting information systems interact with those decisions. Her publications include Issues in Accounting Education, Journal of Information Systems, Journal of Business Ethics, Management Accounting Quarterly, Journal of Corporate Accounting and Finance and the Journal of Accounting Education.
 
Ann also received the 2018 American Accounting Association's Innovation in Accounting Education Award for her work in data analytics curriculum development. Ann's work in data analytics has resulted in invitations to present on Data Analytics and Accounting curriculum at both academic and professional conferences. Her presentations have reached over 1,800 people and her materials have been shared with more than 50 universities.