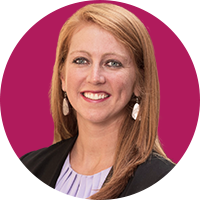 Holly Hawk, PhD, CPA, CGMA
Holly Hawk, PhD, CPA, CGMA, is a lecturer within the Terry College of Business at the University of Georgia, teaching both undergraduate and graduate-level courses. Holly holds a PhD in higher education and a Master's of Accountancy in audit from the University of Georgia, as well as a Bachelor's in Business Administration from Mercer University. Holly has worked at PwC, TD Bank, and was also an adjunct lecturer at Clemson University. 
Holly was named to the "40 under 40" list by CPA Practice Advisor and is very active within the AICPA and AAA organizations. As part of the AICPA Academic Executive Committee, Holly has chaired the Distinguished Education Achievement Award Committee for the past two years. In 2018, Holly received the Emerging Scholars Leader Award from the Innovation in Teaching Conference and most recently, has been inducted into the Mercer University Athletic Hall of Fame.