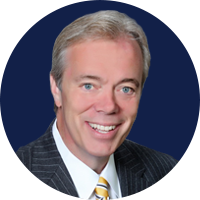 Timothy F. Gearty, CPA, MBA, JD, CGMA
Tim Gearty, CPA, MBA, JD, CGMA, also known as the "Dean of CPA Review," is passionate about helping young accounting professionals pass the CPA Exam and providing CPE to help accountants advance their careers! Tim is a veteran Becker instructor, having worked with the organization since 1999. The accounting career path drew Tim because of his natural love for business and inspirational college professors. Tim has been honored with various accolades over the course of his career. In 2020, Tim was ranked #4 on NJBIZ's Accounting Power 50 list, received Corporate Insider's Business Excellence Award, and was recognized on Marquis's "Who's Who in America" rankings. 
Some of Tim's past achievements include receiving Corporate LiveWire's Innovation & Excellence Award in 2017, and being named by Accounting Today as one of the 100 most influential people in the accounting profession.  
Tim is currently a managing partner of CPA firm Gearty & McIntyre, LLP, CPAs. He holds a BS in Accounting from Fairleigh Dickinson University, and both an MBA in Finance and Law Degree (JD) from Seton Hall University. Tim is a member of the New Jersey and American Bar Associations. 
Some of Tim's favorite things about Becker include teaching ethics courses, improving the CPA curriculum for future accountants and inventing fun Becker mnemonics like the BAE BAE memorization technique. Of course, he also enjoys teaching alongside his best friend, Peter "Sugar Bear" Olinto. 
When he's not teaching FAR, Audit or REG tax sections for Becker's CPA Exam Review, Tim enjoys golfing and basketball. Tim also says that if he weren't a Becker instructor, he would be a movie director.  
Tim recommends that any CPA student believe in their own ability and that accountants should "never fear a challenge - it is an opportunity to grow and improve."  
Tim's words of wisdom to current CPAs are: "Never stop learning and developing. The best investment you can ever make is in your own education and training."  Wise words, Tim!