Becker's commitment to current and future Black CPAs
February 27, 2023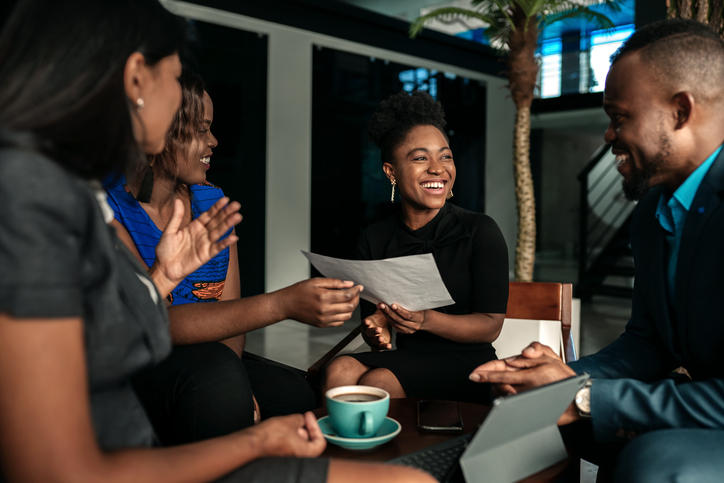 According to an AICPA report, only 2% of all U.S. Certified Public Accountants (CPAs) are Black. Furthermore, Black accountants make up 1% of partners in accounting firms, whereas 91% of accounting firm partners identify as white. These figures illustrate the sad truth: there is a strong lack of representation of Black accountants and licensed CPAs in the profession.
Diversity in accounting is incredibly important. For one, students who see themselves represented in a professional industry are more likely to pursue the profession themselves. Also, as professional accountants grow more diverse, so will the number of diverse accountants in leadership positions.  
As thought leaders in accounting, Becker recognizes this disparity and is actively working to foster diversity in the industry. We've partnered with important organizations in the Black accounting community to work to increase the number of Black accountants and CPAs, support them throughout their career journeys, and amplify their voices.
This article highlights several of Becker's key partnerships that empower Black accountants, including the National Association of Black Accountants (NABA, Inc.), Diverse Organization of Firms (DOF) and the PhD Project.
Coaching the next generation of Black CPAs with NABA
NABA provides a platform for Black business leaders in accounting, finance, business and entrepreneurship. The organization represents more than 200,000 Black professionals in this area. Part of NABA's mission is to empower Black college students to pursue an accounting degree and support them in earning CPA licensure.
As part of these efforts, NABA recently launched the CPA Bound 2.0 program – an initiative that is dedicated to further creating and equipping Black CPA candidates. Becker is incredibly proud to partner with NABA as the exclusive learning provider for the NABA CPA Bound 2.0 Program.
Becker is a leader in helping candidates prepare for and pass the CPA Exam. Our partnership with NABA leverages our premier CPA Exam review courses to help Black CPA candidates pass their exams. CPA Bound 2.0 Program members will receive a five-part Guided Study Plan Review that incorporates coaching sessions and a guided simulated exam review. We'll also be hosting a series of events and activities designed to promote the profession and provide updates regarding CPA Evolution.
It can be challenging for Black accounting students to overcome obstacles to earn CPA licensure. This program is another step towards reducing those barriers and helping candidates cross the finish line.
Supporting Black-owned business owners through DOF
As we work to increase the number of Black students who pursue degrees in accounting and CPA licensure, we also recognize the importance of further fostering career development for Black accountants. The Diverse Organization of Firms (DOF), an affiliate of NABA, is an alliance that connects Black accounting and finance firm owners. The organization supports these business owners through mentorship and networking opportunities with potential clients.
Becker is proud to be a gold sponsor of the DOF. As part of our partnership, we host roundtables that share how we can collectively tackle challenges faced by Black CPAs, support career development and promote pathways to entrepreneurship. We also educate aspiring Black CPAs on the CPA Exam, upcoming exam changes with CPA Evolution, and updates that impact the profession.
Building a stronger and more diverse Becker instructor team with the PhD project
A few years ago, Becker's Director of Faculty and Instruction, Tom Vucinic, set a goal to diversify our Becker faculty. Our instructors are experts who support students through their CPA and CMA journeys, and in providing expertise throughout accountants' careers with their CPE presentations. However, we had work to do to build a faculty team that is diverse in terms of race and ethnicity. We strongly believe that such representation is essential to diversify the accounting profession. If Becker is truly committed to empowering Black accountants, that needed to be reflected in who was teaching our courses. 
Hence, our partnership with the PhD Project. The mission of the PhD Project is to increase the diversity of business school faculty and, in doing so, increase diversity in the overall professional workforce. Their membership consists of accounting and other business school professors and PhD candidates who are Black, Latinx or Native American. Tom and other Becker colleagues have been overwhelmed with the challenging but heartwarming stories of these dedicated instructors during the journey to reach their goal.
We partnered with the PhD Project with a primary goal of recruiting qualified accounting faculty of color. In the last eight months, through our partnership, we've contracted four dynamic PhD Project members as instructors at Becker. We've also retained two additional faculty of color in that same time frame. And this is just the start!
As the accountant's champion, Becker is proud of our partner's initiatives that support and empower the next generation of Black CPAs. We also recognize that there is even more to be done. We're committed to continuing our work with Black accounting organizations and supporting Black CPA candidates and CPAs with opportunities that will positively impact their careers.