From big dreams to the Big 4: Ebeni Ingham's journey to becoming a CPA
February 16, 2023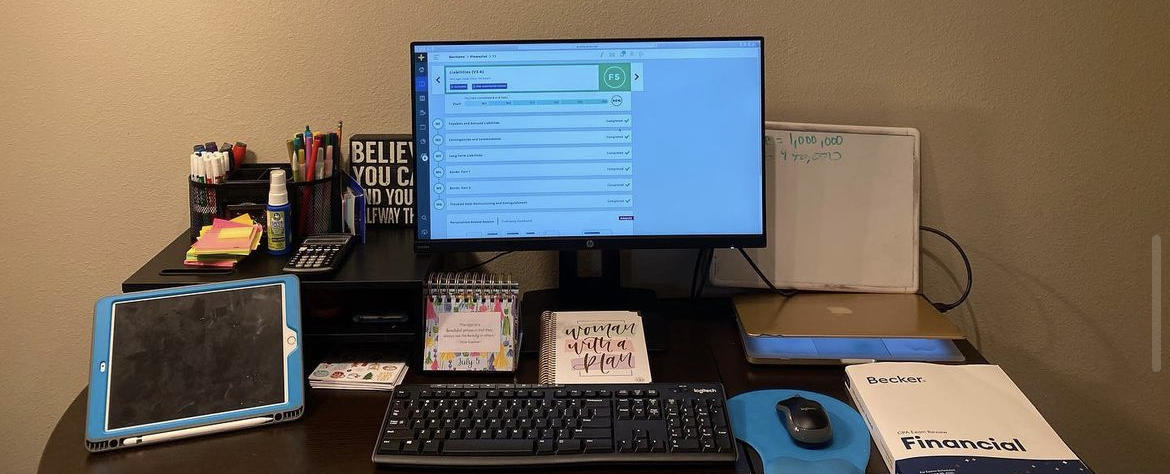 "What do you want to be when you grow up?"
This is a question we've all been asked throughout our lives.
But if you've already declared your accounting aspirations, answering this question feels more pressing and grounding than ever before. As you've explored your career options, you've likely come to a crossroads of whether to pursue a CPA license. Committing to this path isn't a decision to take lightly because it's hard work: studying to first become eligible to sit for the exam, followed by more studying to pass the exam, then getting work experience in the field.
This amounts to hundreds of hours dedicated to pursuing your CPA license--no small feat even for the grittiest of candidates. Black CPAs, in particular, make up less than 2 percent of all CPAs in the country. Despite these odds, Ebeni Ingham, CPA, a Becker CPA Exam Review "alum," landed a highly coveted role as an auditor at one of the Big 4 public accounting firms. We talked to her to find out how she did it and what advice she has for CPA candidates who are looking to accomplish the same.
Photo credit: Ebeni's Instagram, @themoderncpa__
Find your "why"
Before you etch your CPA license goal in stone, Ebeni recommends that you first do some soul-searching to understand why you want to become a CPA. Being clear on your reason for earning CPA licensure will help you push through the requirements, intense study schedule, and personal sacrifices you'll need to fulfill and make along the way.
For Ebeni, her "why" was obvious from childhood: she loved and excelled at working with numbers. After taking accounting classes in high school, she decided to further explore her passion by majoring in accounting at Tuskegee University. Her experience there boosted her confidence and allowed her talent and love for accounting to flourish. "The Business School was small, which allowed me to feel supported," Ebeni said, "and the accounting program had all the classes I needed to apply to sit for the CPA Exam immediately after graduating." Her time at Tuskegee showed her which road to take: she was going to become a CPA.
Commit to the process
Having a goal without a plan to achieve it is like trying to bake a dessert without a recipe or the tools to do it. While having the outcome in mind will keep you motivated when things get hard, "discipline is what you need to follow through," says Ebeni. Studying for the CPA Exam demands about 350 - 450 total hours, so you need to be tactical with your time management to stay on track.
Ebeni worked full-time while studying for the exam, which limited her free time. To avoid burnout, she was intentional about connecting with family and friends whenever she could. She also prioritized her well-being by working out during her study breaks, as well as meal planning and prepping to enforce healthy habits.
Her takeaway? Creating and sticking to a balanced yet ambitious schedule will give you the motivation to move forward. "There will be days that you just don't feel like studying, but having discipline will force you to do what you know you need to do to succeed."
Invest in help
You can't achieve goals without motivation and discipline, but this doesn't mean you should figure out everything yourself. This is why Ebeni attributes part of her success to tapping into the resources available to her. With the average CPA candidate studying 20 hours a week over a span of 18 months, wrapping your head around how much work lies ahead can feel intimidating. "Sometimes it's just hard figuring out where to start," she says. Through her employer, Ebeni was able to leverage the benefits of Becker's CPA Exam Review, which alleviated the stress of creating her own study plan.
Photo credit: Ebeni's Instagram, @themoderncpa__
Ebeni found that Becker's personalized software, live courses, and content deep-dives were key to helping her master the material. She also leaned heavily on the study planner tools to stay on schedule and AI-powered practice tests to strengthen her areas of improvement. Becker's CPA Exam Review is "so comprehensive and user-friendly," she notes, "and made me feel like the only thing I had to do was show up and commit to the process."
Diversify your support
Your CPA Exam experience might not look like Ebeni's. It may take longer or shorter, or include more complexities--and that's OK. But what we can learn from Ebeni's success story is that creating your own support system can boost your chance of passing the CPA Exam. This is especially important for those with intersectional identities. "Use the lack of representation as motivation," says Ebeni. Take small, intentional steps toward crushing your exam goals by:
Finding mentors at school or work--people who can guide you through the ups and downs of the process
Joining organizations such as the National Association of Black Accountants (NABA) to connect with those who have walked in your shoes, not only as a CPA candidate but also as an underrepresented person who continues to defy the odds
 Participate in study groups with people to crowdsource answers to your questions and motivate each other
Regularly making time for friends and family to reset and give your brain a much-needed study break
Leveraging CPA Exam resources that are customized to your learning goals
You're probably wondering, "can I do this?" The answer is, yes, you can! It's completely normal to have doubts, even about the aspirations we want to reach. The trick is to have the right mindset. As Ebeni puts it, "the journey to becoming a CPA is tough and is different for everyone, just don't give up!"
Photo credit: Ebeni's Instagram, @themoderncpa__
Looking for a study partner? Learn more about how Becker can help you pass the CPA Exam.