How to prepare for CPA Evolution with Becker as your guide
March 6, 2023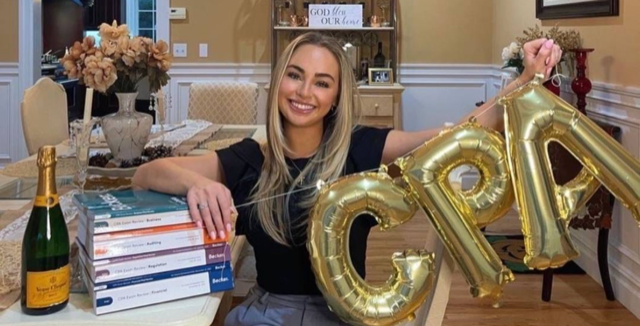 Are you an accounting student currently on track to take the CPA Exam in or after 2024? If so, there's something you should know: the CPA Exam will change by the time you sit down to take it. In July 2022, the AICPA (American Institute of Certified Public Accountants) and NASBA (National Association of State Boards of Accountancy) announced that both the structure and content of the CPA Exam would be changed, taking effect in January 2024 and impacting all those planning to take it after that date. 
Major changes to the exam can be unsettling - especially if you're relying on talking to people who have or will have already taken it for advice and reassurance. If you're going to be part of the first class of hopeful CPAs sitting for the 2024 exam, it might feel like a daunting exercise. But don't worry! Becker has been through exam changes before and is here to help! Becker isn't just a CPA Exam review provider but a full-shop resource to support your journey toward CPA licensure. So, where should you start?
Preparing for the 2024 CPA Exam changes using Becker CPA Exam Review
Here are four steps to prepare for the new CPA Exam using your Becker team.
The more you know, the better you'll feel. Becker has been publishing articles, downloadable PDFs and video content for over a year, detailing CPA Evolution changes and how you can best prepare.
These include the AICPA's Final Blueprint for the new CPA Exam, building your personal study plan around Evolution and the best order to take the CPA Exam sections given NASBA's transition timeline. These resources can be found on our CPA Evolution Hub. As we approach the new exam, we'll continue to share the latest news and advice.
Our updated CPA Exam Review will be ready in the fall of 2023 – well before CPA Evolution takes effect. This includes updated content to reflect what's on the new CPA Exam, as well as a new and improved student experience.
Each of our textbooks, multiple-choice questions, task-based simulations and flashcards are being audited to ensure they match the new AICPA Blueprint. This includes mapping the content that needs to move to a new section of the exam, removing content that is not included in the blueprint and writing brand new content, like the three new discipline sections of the exam.
Students that already partner with Becker will see a seamless transition in the fall. All your existing exam prep progress will remain when the update happens – and you'll see what new exam content you need to cover.
Thirdly, make the most of your new and improved Becker toolkit.
We've been keeping our best-in-class exam review content up-to-speed, all while preparing for CPA Evolution for over a year. The content is important, and so is how you how you digest the material. The new Becker CPA Exam Review will have an even more personalized learning experience with more live and virtual ways to learn – so that you can study in the method that's best for you.
This includes 900+ new right-sized lecture videos – more than we've ever had before! The updated lecture videos will follow a new dynamic format, following PowerPoint slides that interpret the content and make it more digestible.
Becker students can also take advantage of upgraded Adapt2U Technology and a personalized and customizable study planner tool. This upgraded tool helps you build the study plan that works for you, while also ensuring that you learn the content that's covered on exam day.
If you're concerned about the exam's newly tested content – and how you'll learn all of it in time – don't worry! Becker has you covered so you can prep confidently.
Finally, lean on our team of experts.
We have a huge team that works around the clock to provide you with the most up to date information about the CPA Exam. Our team includes:
Subject matter experts who work in curriculum and product development – these are the heavy lifters that develop our textbooks, video lectures, MCQs, TBSs and flashcards. For more than a year, this team has worked tirelessly to ensure that we have content that matches the AICPA's Blueprint for CPA Evolution. These folks write the new portions of textbooks, MCQs and TBSs and provide support to students in our exclusive Facebook study groups.
Faculty and national instructors – the face of Becker that interprets exam content and teaches in a way that's digestible and easy to understand. The new Becker experience will introduce two new national instructors – Michelle Moshe and Mike Potenza – who bring their fresh perspectives to the industry-leading team of Mike Brown, Tim Gearty and Peter Olinto. Don't forget to claim your free cup of coffee from Sugar Bear after you pass the exam!
Academic and customer support – one of the main advantages of Becker CPA Exam Review is the level of service we provide our students. These teams respond to your exam content and review-related questions accurately and quickly. In fact, 90% of student's academic questions are answered in under six hours!
Partnerships – we're connected with more than 2,900 firms, universities and organizations so your resources are never limited.
Being among the first students to take the new CPA Exam might seem intimidating, but if you have the resources and expertise you need to be prepared for it, you should think of it differently: you will be among the first students to take a new and improved exam that better reflects the needs of the future public accounting profession. And this will only be good for reaching your professional goals!
That said, it's never too early to start your preparation.  Kick off your CPA journey with a Becker CPA Exam Review free demo.